While asset recovery, resource recovery, or investment recovery are terms the process manufacturing industry understands, Federal Equipment Company's Resource Recovery program is much more than merely extracting any possible value from surplus equipment.
Instead, we look at asset recovery through the lens of asset and capital investment management, helping our partners to maximize their capital investments and, when needed, serve as on-call sourcing agents to quickly fulfill equipment needs—even emergency needs.
Request Consultation
LATEST ARTICLE
How Leading Manufacturers Are Reconsidering the Entire Capital Equipment Lifecycle
Download Now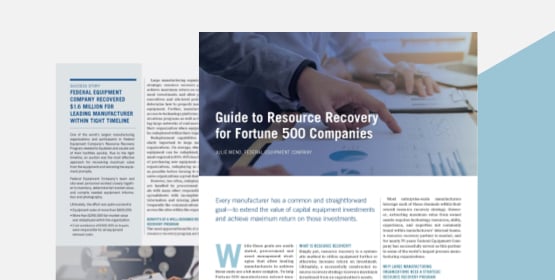 Why Participate in Federal Equipment Company's
Resource Recovery Program?

Capital Equipment—Lower Costs, Maximize Investment
Redeploying equipment, buying used industrial equipment, and extracting maximum value from unneeded equipment is the foundation of asset recovery and lowers overall capital equipment costs.

Sustainable Manufacturing
Redeploying equipment within your organization or selling unneeded equipment to other manufacturers contributes to sustainability and zero-carbon objectives. Procuring used equipment whenever possible also contributes to sustainable manufacturing. All of these activities are key components of the circular economy.

Extracting Unexpected Value
Some equipment (e.g., very old, damaged equipment) simply has no value other than the scrap metal value and we advise accordingly when this is the case.
However, seemingly worthless equipment may be worth more than meets the eye. The Federal Equipment Company Resource Recovery Program explores the market for opportunities.

On-Call Equipment and Parts Sourcing Team
Your Federal Equipment Company Resource Recovery team is also a valuable resource to source used manufacturing parts and equipment needed for your facilities to lower capital equipment investment costs or secure parts and equipment in short supply due to interrupted supply chains. Pulling from the inventory in our warehouses or tapping our extensive network, our team will find the equipment or parts you need.
How Does the Federal Equipment Company's
Resource Recovery Program Work?
Our Resource Recovery program combines nearly 70 years of Federal Equipment Company's experience and expertise to form a comprehensive capital equipment management program that includes:
Request Free Asset Recovery Consultation
Want insights into how Federal Equipment Company's Resource Recovery program might benefit your organization? Complete the form below to schedule a free asset recovery management consultation.