Used Chemical Processing & Manufacturing Equipment
Thousands of pieces of used chemical equipment in stock
Federal Equipment company supplies used chemical equipment to chemical manufacturers around the world. As a leading used chemical machinery dealer, we leverage strategic relationships to source the most reliable used chemical equipment for our inventory. Browse over 200 categories containing thousands of pieces of used chemical manufacturing equipment for sale. Request a quote, make an offer, and purchase now. Take advantage of our relationships to save yourself time and money.
Here are some of our featured categories:
Chemical Reactors and Reaction Equipment
Separation and Isolation Equipment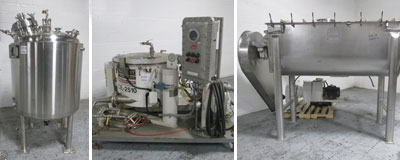 We offer many more categories from where you can select chemical equipment. Browse Our Inventory for a complete list. We focus on reliable equipment from only the top original equipment manufacturers.
Recognized Original Equipment Manufacturers:
We provide a full selection of equipment used in these types of chemical manufacturing:
Adhesives / Glues
Agro-chemical
Batch & Specialty Chemicals
Active Pharmaceutical Ingredients (API)
Additives & Dyes
Cosmetics / Personal Products
Excipients
Fragrances & Flavors
Biofuels, Biodiesel, Ethanol and Solid Mass Biofuels
Building & Construction Materials
Cable Manufacturing
Algae
Ceramics
Glass
Cleaning Agents, Detergents, Soaps and Household Products
Feed Processing
Minerals & Grains
Lubricants
Petrochemicals
Paper & Pulp
Potash
Metal Coatings
Sealants and Coatings
Waste
This is not all we have and our inventory changes daily! Check our other verticals and come back often to see all of our used chemical manufacturing equipment.